Client care
Permanent make-up is a very safe procedure, however Lorette takes the ultimate care to ensure your comfort and to eliminate any possibility of adverse reactions.
Starting with an initial consultation, you can discuss what you want the outcome to be, and Lorette will apply conventional make-up so you can visualise how the end result will look.
Allergies and reactions
You will have a patch test (which can be mailed to you) so you can have your consultation and treatment on the same day.
During your consultation/treatment with Lorette you will appreciate the time, care and absolute dedication that ensures you achieve exactly the look you require.
Disposable needles

Hygiene and safety are of paramount importance to Lorette and along with her artistic and technical flair you can be assured you are in the hands of a true professional.
Lorette is a member of the Society of Permanent Cosmetics Professionals - SPCP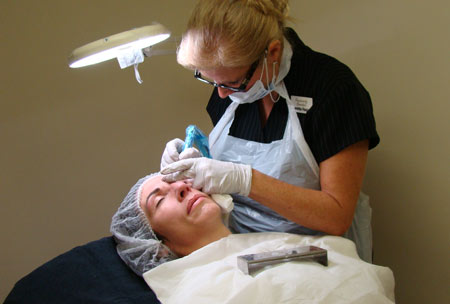 The procedure is done with little discomfort. Lorette works in salons & clinics in the north, where to put you at ease is an absolute priority.
The actual time for the application is aproximately 1-2 hours, depending on your choice of treatment. This will include some consultation time.